Using AI to improve social media conversations.
A brief introduction to DeLab
The Deliberation Laboratory (DeLab) aims to improve social media conversations by combining
state-of-the-art research on AI with a profound theoretical underpinning.
The challenge
One of the many challenges in our society is a lack of interpersonal mutual understanding. When it comes to matters of identity, social media users repeatedly attack each other in highly emotional terms, always anxious to emphasize what divides rather than unites.


The current solution
Since human moderators are unable to oversee more than 500 million tweets a day, moderation mostly means "deletion". As a response to increasing online incivility and verbal aggression, some news sites gate-keep comments or otherwise completely remove them from their sites.
Our proposed solution
Imagine a virtual moderator enters the fray in real time. The virtual moderator detects when things are getting destructive. The moderator then intervenes by allowing users to go through a systematized set of argument chains to help them make up their minds on a particular issue.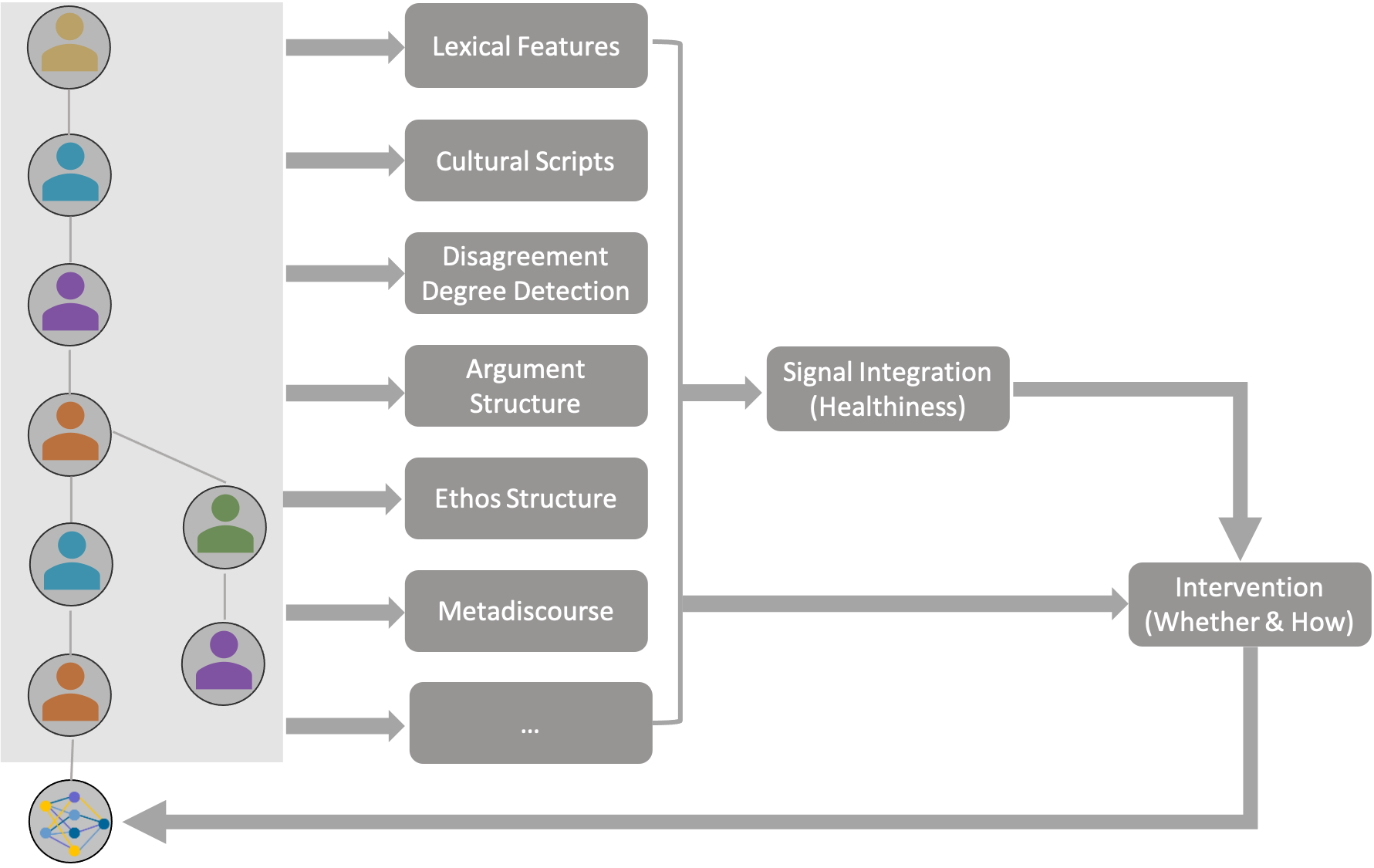 DeLab Framework
The image on the left presents our modularized approach which combines state-of-the art methods with theoretical considerations.
The approach consists of five key components:
The input: Conversations are extracted from social media sites
The modules: We use a wide range of computational procedures to extract conversational properties.
The integration: The properties are combined to proxy the healthiness of a conversation.
The intervention assessment: We rely on AI procedures to answer the question whether and how we need to intervene.
The intervention: The intervention is posted on the social media site.
You can find more information about the approach on
this page
.
Our latest blog articles
We regularly blog about the project in general, but also about our experiences with specific components. So if you want to know about what we do, please have a look at our
blog page
.